Over a long time, more and more people have been moving to other countries in search of labor. This is only because overseas countries pay more for any work you do as compared to their countries. The good thing has been that these individuals who work overseas contribute significantly to the economy of their countries. This information is according to the OFWtayo which is a newsletter which gives information and news to overseas workers. Most countries have appreciated the fact that their economies can gain from their citizens who are work overseas. There a lot of benefits that one will also get while working overseas. In this article, we take you through some of the advantages of working overseas.
Build international networks and earn new working styles
When you work in another country, you will benefit greatly because you will be able to increase your network.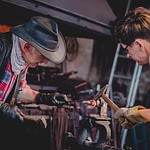 You will have a new network of friends and colleagues from different countries. This is because even as you work in a particular country, you will not only interact with the citizens here but also other citizens from another country who are working there. For this reason, you will end up developing strong international networks. Similarly while working, you will realize those different countries have different working styles. The new working styles will entail hours of working and how they allocate roles.
Experiencing different cultures cultural awareness
Learning other people's cultures is very fascinating and a good experience. The best way to learn other people's culture is y living and working with them. Staying and working in a particular country will make you be familiarized with their culture, and you will start appreciating it. On the other hand, you will have cultural awareness such that you will know how to interact with different people.
You will be able to learn a new language
Learning a new language may not as easy as most people may think. Similarly, the best way to earn language is by interacting with people who speak the language you wish to know. This is very effective as compared to a case where you are taken to lessons of learning a new language. When you learn a language of the people, you live with you will feel and have a sense of belonging.
You will enhance your CV
Having a CV which shows that you worked overseas will be a significant advantage that you will get when you work abroad. Most employers will consider you because they know you have new ideas. The employers know overseas to be hardworking hence they will try and offer you a job because of your cv.